Somer's Day
Friday September 10, 7:00 p.m. – 9:30 p.m. (rain date 10/17)
Seven Hills Park behind Davis Square MBTA Station
Produced by Sur5ILL, winner of the BIPOC 2020 grant series, Somer Fest hosts its third annual multi-genre outdoor concert. There is something for everyone: patrons who like live music will be treated to covers of punk rock and acoustic pop; dance fans can get their collective groove on our DJ tracks, from reggaeton to top 40; comedy fans can chuckle in front of some of the brightest stars in Boston's comedy scene; and those who are amazed by the disappearance of objects can be amazed by magic.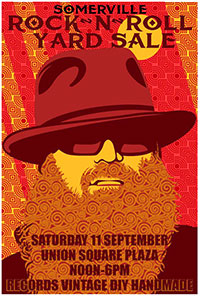 Somerville Rock + Roll Garage Sale
Saturday September 11 from 12 p.m. to 6 p.m. (rain date 09/12)
Union Plaza Square, 90 Union Square, Somerville, Massachusetts
Join us as What Cheer produces Rock And Roll Yard Sale. Vintage clothing merchants and DIY craftsmen will join record sellers, creating a unique shopping experience. There will be all kinds of music related formats – including vinyl, CDs, cassettes and 8 tracks – and audio material, music magazines, silkscreen posters and more. It is an ideal way to support DIY and small independent businesses.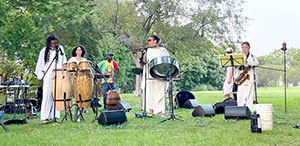 Misik Project: In a yard in Somerville
Saturday September 11 from 1:00 p.m. to 5:00 p.m. (rain date 09/12)
Blessing of the Bay Boathouse, 32 Shore Drive, Somerville, MA
Join Zili Misik and the Somerville Arts Council for a CELEBRATION IN A SOMERVILLE YARD with our star guests, Solomon Murungu (Zimbabwean mbira), Becky Bass (Trinidadian steel pan), Peniel Guerrier (Haitian drum & dance), DJLadyLy and Gourmet Kreyòl Food Camion . There will be FREE and open workshops and after, stay to enjoy a concert with all the guests, including award-winning girl group Zili Misik.
REGISTER HERE FOR THE WORKSHOPS (not necessary but help with participation):
1:00 p.m. – 2:00 p.m. free workshop in Zimbabwean Mbira, led by Solomon Murungu
2:00 p.m. – 3:00 p.m. free workshop in a steel tank, led by Becky Bass
3:00 p.m. – 4:00 p.m. Free workshop of Afro-Haitian drums and folk dances, led by Peniel Guerrier
4:00 p.m. – 5:00 p.m. Free concert with all guests and award-winning Boston-based girl group Zili Misik
More Gourmet Kreyol food truck and DJ Lady Ly