By Cait Jayme and Elizabeth Efferson
Over time, how we create art and what it looks like changes with our culture and society. Especially here at SCAD who constantly keep up to date with the most modern aesthetics and the latest technology, it can be a breath of fresh air when we see things inspired by a vintage perspective, which is exactly what I felt when I first saw Elizabeth Efferson's fantastic vintage-inspired artwork. Efferson is a 2nd year Painting major with a minor in Concept Art for Games who works in a variety of different mediums, including digital art. Scroll down to learn more about her work and the visual inspiration of Efferson herself!
What are your historical inspirations?
For about half of my work I use reference photos from the 1930s-1950s, and the other half is from the late Victorian/early Edwardian era (about 1890-1915). These two periods of women's style have some of the most striking silhouettes in my opinion.
Aside from my love for hair and fashion of the time, using old photos as references is very handy because all photos created and published before the year 1923 are currently in the public domain!
I've worked in building costumes for the theater since my teens and it interested me in how all the layers involved in silly old party dresses fit together. I love how styles evolved a bit at a time in the early to mid 20th century.
In my fascination with vintage style, I stick almost exclusively to womenswear because frankly, the past few hundred years of menswear just has no flavor.
Highlight pieces of Efferson's work
This piece is a perfect example of my 1940s pieces. This one was done for the Fall 2021 term class in gouache and was part of a Halloween series! This piece gives me the opportunity to talk about one aspect of using very old photographs as reference, they are all in black and white! I used to see this as a downside because I couldn't see the full range of skin tones and clothing colors of a person in a grayscale photo, but recently I've started to see it as a challenge to create a color palette from my imagination. . As you can see in this piece, I tried to incorporate more than neutral colors into her skin by using lots of purples, blues and oranges.
This sculpture was also made for the class last year and is inspired by the silhouette of Victorian marching costumes! This is made of polymer clay and I'm sure many students will remember this 3D design project. I named this character Evergreen and she was a nature goddess made out of moss. She is just over 10 inches tall and now lives on display in my mother's dining room. I had never tried working in 3D until this project, but recently I have incorporated sculpture into a lot more of my painting work.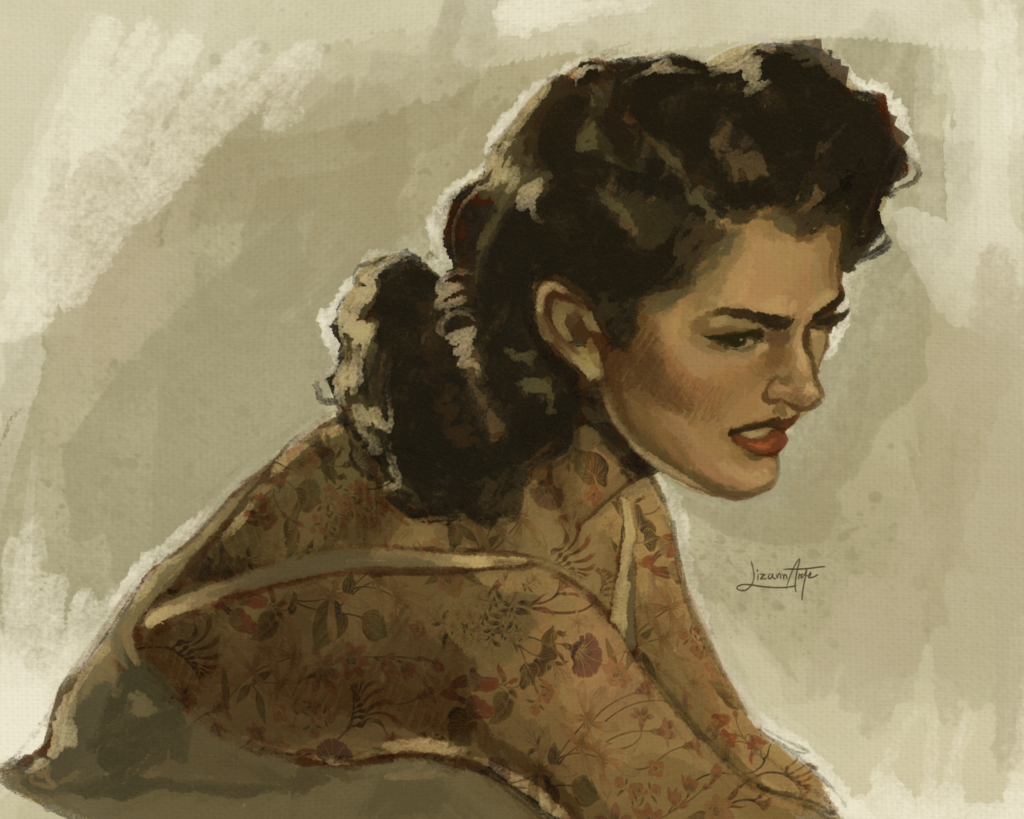 Another piece from the 40s! I wanted to discuss this work as it is a study and studying is one of the fastest ways to learn new painting techniques in my experience. This is a digital study of a painting by famous American illustrator Andrew Loomis, one of my favorite artists next to John Singer Sargent and JC Leyendecker. This piece isn't a perfect copy as I changed most of the colors and gave it a bunch of tattoos just for fun. I thought the expression on the original was beautiful and wanted to challenge myself to try an expression other than a pleasant smile, which I find myself making a habit of painting.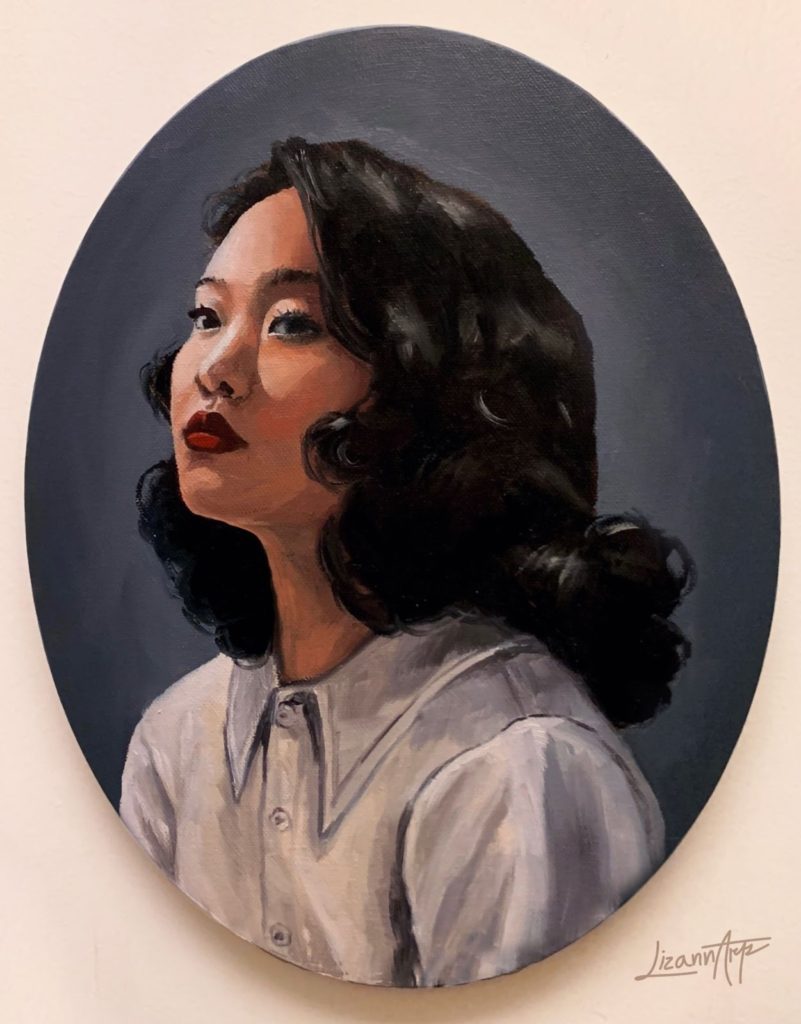 The last work I want to show is one of my oil paintings. This piece is a portrait of a good friend of mine who loves vintage hairstyles as much as I do. The shapes created by brushed hairstyles are so fun to paint on and exaggerated for more dynamic compositions!
Thanks for sharing! Where can we find your work online?
My Instagram art account is @lizannarts where I share almost all my work. I'm always open to commissions!